INSTANTLY RELIEVE FOOT PAIN!
Introducing the EMS Foot Recovery Mat, designed to effectively relieve foot pain, improve blood circulation, reduce swelling, and alleviate foot aches.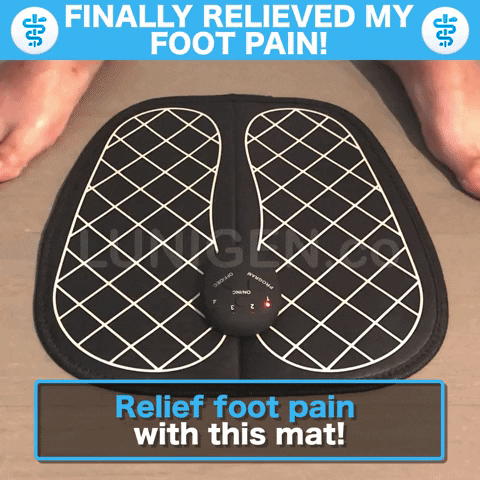 BENEFITS OF EMS FOOT RECOVERY MAT:
Relieve Foot Pain and Fatigue
Loosen Muscle Knots and Tightness
Alleviate Pain In Tendons and Ligaments
Improves Blood Circulation
Relieves Aches and Tension
Reduce Swelling
 
HOW DOES IT WORK:
EMS stands for Electrical Muscle Stimulation and it sends electrical pulses to stimulate pressure points and the muscles in your feet causing them to contract and relax. Consistent use will gradually loosen up muscle knots and ultimately relief pain. The stimulation also increases the flow of oxygenated blood that reduces pain in your feet and invigorating your tired and fatigued legs.


THE EMS FOOT RECOVERY MAT IS PERFECT FOR:
Numbness, Swelling and Cramps
Poor Circulation
Edema or Fluid Build-up
Varicose Vein
Diabetic Neuropathy
Achilles Tendonitis
Plantar Fasciitis
Ankle Sprains



KEY FEATURES
Six programs with 10 different intensity levels
15 minute automatic "on-off" program
Silver ion circuit technology
Detachable control unit
SPECIFICATIONS:
Size:

 

Approx. 32 x 15.5 x 3cm 
Power:

 

2 x AAA batteries (not included)
Weight:

 

210g


INCLUDES:
1 x Main Controlling Unit
1 x Ion Conductive Footpad
1 x Manual (English)